Fan di Harry Potter a rapporto!!!!
È ufficiale, il 31 luglio uscirà l'ottavo episodio del maghetto più famoso del mondo, creato dalla scrittrice JK Rowling, dal titolo Harry Potter e il Bambino Maledetto (Harry Potter and the Cursed Child), questo sequel, suddiviso in due tomi, è ambientato circa 20 anni dopo la battaglia di Hogwarts e vede un Harry ormai adulto, impegnato presso il Ministero della Magia, sposato e padre di tre figli. Sarà proprio il secondogenito, Albus Severus Potter, il vero protagonista della storia, che si vedrà costretto a fronteggiare le forze del male a causa del pesante fardello della sua eredità di famiglia. Gli attori appartengono a una generazione diversa e sono introdotti in contesti personali del tutto inediti.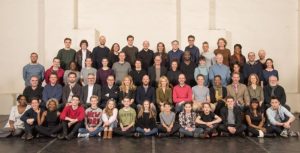 Questo nuovo capitolo è tratto dall'omonimo spettacolo teatrale che debutterà il prossimo 7 giugno a Londra al Palace Theatre nel West End.
"Harry Potter and the Cursed Child" arriverà nelle librerie inglesi, statunitensi e australiane alla mezzanotte in punto del prossimo 31 luglio, giorno del compleanno del maghetto occhialuto e anche della sua creatrice, che compirà 51 anni, sarà pubblicato dall'editore Little, Brown in Gran Bretagna, da Scholastic negli Usa e da Hachette in Australia. In Italia non è stata ancora annunciata la data di uscita ma come in precedenza il volume sarà edito da Salani.
Il giorno prima, 30 luglio, al Palace Theatre di Londra si terrà la rappresentazione della commedia teatrale "Harry Potter and the Cursed Child" con la sceneggiatura firmata da Jack Thorne e la regia di John Tiffany, sul palco reciteranno 30 attori in una produzione kolossal.
Come potete bene immaginare, la notizia ha mandato i fan della saga su di giri ed è iniziato un cinguettio assordate sui social. Nel frattempo a noi italiani non resta che attendere di sapere quando potremo avere la nostra versione in italiano da aggiungere alla collezione.
Io penso che, come per il settimo capitolo, sarò ad attendere la mezzanotte del 31 luglio.