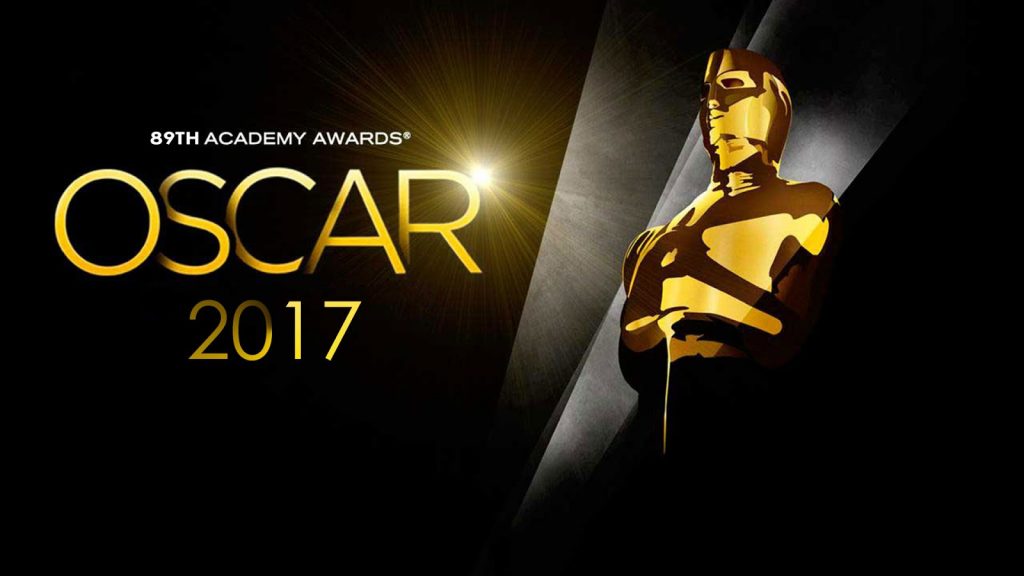 Il 24 gennaio sono state annunciate le nomination per ognuna delle 24 categorie degli Oscar, decise in base ai voti dei circa ottomila membri dell'Academy of Motion Picture Arts and Sciences.
Le nomination totali sono state più di 100 e il film che ne ha prese di più è La La Land, ben 14: una per ognuna delle categorie più importanti, due per una stessa categoria (Miglior canzone). Per entrare nella soria dovrebbe vincerne almeno 12 e superare Ben Hur, Titanic e Il Signore degli Anelli – Il ritorno del re.
Gli altri plurinominali in corsa sono Moonlight (8), Lion e Manchester by the Sea (6), e Hell or High Water e Barriere (4).
La maggior parte dei 9 film candidati come "miglior film" sono stati prodotti in modo indipendente, o comunque non da uno degli studi cinematografici più grandi. Tra questi c'è anche Arrival, che è di fantascienza.
Curioso che Mel Gibson, regista di La battaglia di Hacksaw Ridge, sia stato nominato per l'Oscar alla Miglior regia: come ha scritto il New York Times è il segno che Hollywood (inteso come gruppo di persone) l'ha perdonato per «i suoi comportamenti fuori dallo schermo».
Le assenze più notate? Amy Adams e Tom Hanks. Meryl Streep si è invece guadagnata la ventesima nomination della sua carriera: mai nessuna attrice ne aveva avute così tante prima di lei, con buona pace di Trump.
Infine, una storia forse molto "triste": le nomination degli 89esimi Oscar hanno rinnovato le speranze di Kevin O'Connell, che è stato nominato per il Miglior sonoro di La battaglia di Hacksaw Ridge. La prima volta fu nominato nel 1984 e da allora altre 20 volte. Nessun altro – in nessuna categoria – nella storia degli Oscar ha avuto così tante nomination senza nemmeno una vittoria. Solo Leo Di Caprio, forse, può capire.
La cerimonia di premiazione dell'89esima edizione degli Oscar sarà il 26 febbraio. Stay Tuned!
1. Miglior film:
Arrival, di Denis Villeneuve
Hacksaw Ridge, di Mel Gibson

La La Land, di Damien Chazelle

Manchester by the sea, di Kenneth Lonergan

Il diritto di contare, di Theodore Melfi
Moonlight, di Barry Jenkins
Lion, di Garth Davis
Barriere, di Denzel Washington

Hell or High Water, di David Mackenzie
2. Miglior attore protagonista:
Casey Affleck – Manchester by the sea
Andrew Garfield – Hacksaw Ridge
Ryan Gosling – La La Land
Viggo Mortensen – Captain Fantastic
Denzel Washington – Barriere
3. Miglior attrice protagonista:

Isabelle Hupper – Elle
Ruth Negga – Loving
Natalie Portman – Jackie
Emma Stone – La La Land
Meryl Streep – Florence
4. Miglior attore non protagonist:
Mahershala Ali – Moonlight
Jeff Bridges – Hell or High Water
Lucas Hedges – Manchester by the sea
Dev Patel – Lion
Michael Shannon – Animali notturni
5. Miglior attrice non protagonista:
Vhtiola Davis – Barriere
Michelle Williams – Manchester by the sea
Nicole Kidman – Lion
Octavia Spencer – Il diritto di contare
Naomie Harris – Moonlig
6. Miglior regia:
Mel Gibson – Hacksaw Ridge
Denis Villeneuve – Arrival
Damien Chazelle – La La Land
Kenneth Lonergan – Manchester by the sea
Barry Jenkins – Moonlight
7. Miglior film straniero:
Land of Mine (Danimarca)
A man called Ove (Svezia)
Il cliente (Iran)
Tanna (Australia)
Toni Erdmann (Germania)
8. Miglior sceneggiatura originale:
Taylor Sheridan – Hell or High Water
Damien Chazelle – La La Land
Y. Lanthimos, E. Filippou – The Lobster
Kenneth Lonergan – Manchester by the sea
Mike Mills – 20th Century Woman
9. Miglior sceneggiatura non originale
Eric Heisserer – Arrival:
August Wilson – Barriere
A. Schroeder, T. Melfi – Il diritto di contare
Luke Davis – Lion
Barry Jenkins, Alvin McCraney – Moonlight
10. Miglior film d'animazione:
Kubo e la spada magica, di Travis Knight
Oceania, di Ron Clements e John Musker
La mia vita da zucchina, di Claude Barras
La tartaruga rossa, di Michaël Dudok de Wit
Zootropolis, di Byron Howard e Rich Moore
11. Miglior scenografia:
Patrice Vermette, Paul Hotte – Arrival
Stuart Craig, Anna Pinnock – Animali fantastici e dove trovarli
Jess Gonchor, Nancy Haigh – Ave, Cesare!
David Wasco, Sandy Reynolds-Wasco – La La Land
Guy Hendrix Dyas, Gene Serdena – Passengers
12. Miglior fotografia:
Bradford Young – Arrival
Linus Sandgren – La La Land
Greig Fraser – Lion
James Laxton – Moonlight
Rodrigo Prieto – Silence
13. Miglior sonoro:
Bernard Gariépy Strobl, Claude La Haye – Arrival
Kevin O'Connell, Andy Wright, Robert Mackenzie, Peter Grace – Hacksaw Ridge
Andy Nelson, Ai-Ling Lee, Steve A. Morrow – La La Land
David Parker, Christopher Scarabosio, Stuart Wilson – Rogue One: A Star Wars story
Greg P. Russell, Gary Summers, Jeffrey J. Haboush, Mac Ruth – 13 hours: The Secrets Soldiers of Benghazi
14. Miglior montaggio sonoro:
Sylvain Bellemare – Arrival
Robert Mackenzie, Andy Wright – Hacksaw Ridge
Ai-Ling Lee, Mildred Iatrou Morgan – La La Land
Wylie Stateman, Renée Tondelli – Deepwater, Inferno sull'Oceano
Alan Robert Murray, Bub Asman – Sully
15. Miglior colonna sonora:
Mica Levi – Jackie
Justin Hurwitz – La La Land
Dustin O'Halloran & Hauschka – Lion
Nicholas Britell – Moonlight
Thomas Newman – Passengers
16. Miglior canzone originale:
"Audition (The Fools Who Dream)", musica di Justin Hurwitz, testo di Benj Pasek e Justin Paul – La La Land
"Can't Stop The Feeling", musica e testo di Justin Timberlake, Max Martin, Karl Johan Schuster – Trolls
"City Of Stars", musica di Justin Hurwitz, testo di Benj Pasek e Justin Paul – La La Land
"The Empty Chair", musica e testo di J. Ralph, Sting – Jim: The James Foley Story
"How Far I'll Go", musica e testo di Lin-Manuel Miranda – Oceania
17. Migliori costumi
:
Joanna Johnston – Allied
Colleen Atwood – Animali fantastici e dove trovarli
Madeline Fontaine – Jackie
Consolata Boyle – Florence
Mary Zophres – La La Land
18. Migliori effetti speciali:
Craig Hammack, Jason Snell, Jason Billington, Burt Dalton – Deepwater, Inferno sull'Oceano
Stephane Ceretti, Richard Bluff, Vincent Cirelli, Paul Corbould – Doctor Strange
Robert Legato, Adam Valdez, Andrew R. Jones, Dan Lemmon – Il libro della giungla
Steve Emerson, Oliver Jones, Brian McLean, Brad Schiff – Kubo e la spada magica
John Knoll, Mohen Leo, Hal Hickel, Neil Corbould – Rogue One: A Star Wars story
19. Miglior montaggio:
Joe Walker – Arrival
John Gilbert – Hacksaw Ridge
Jake Roberts – Hell or High Water
Tom Cross – La La Land
Nat Sanders, Joi McMillon – Moonlight
20. Miglior trucco:
Alessandro Bertolazzi, Giorgio Gregorini, Christopher Nelson – Suicide Squad
Joel Harlow, Richard Alonzo – Star Trek Beyond
Eva von Bahr, Love Larson – A man called Ove
21. Miglior documentario:
Fuocoammare, di Gianfranco Rosi
I Am Not Your Negro, di Raoul Peck
Life, Animated, di Roger Ross Williams
O.J. – Made in America, di Ezdra Edelman
13th, di Ava DuVernay
22. Miglior cortometraggio:
Ennemis intérieurs, di Selim Azzazi
La femme et le TGV, di Timo Von Gunten
Silent Nights, di Aske Bang
Sing, di Kristof Deak
Timecode, di Juanjo Giménez
23. Miglior cortometraggio documentario:
Extremis, di Dan Krauss
4.1 Miles, di Daphne Matziaraki
Joe's violin, di Kahane Cooperman
Watani: My Homeland, di Marcel Mettelsiefen
The White Helmets, di Orlando von Einsiedel
24. Miglior cortometraggio animato:
Blind Vaysha, di Theodore Ushev
Borrowed Time, di Andrew Coats and Lou Hamou-Lhadj
Pear Cider and Cigarettes, di Robert Valley
Pearl, di Patrick Osborne
Piper, di Nicolas Alan Barillaro