Che hai fatto in tutti questi anni di Piero Negri Scaglione, edito da Einaudi, è il libro che qualsiasi cinefilo e amante di Sergio Leone vorrebbe leggere.
Si tratta della storia di come Leone è arrivato a girare il suo film più personale, nonché lascito cinematografico fondamentale per chiunque abbia sognato con il cinema.
Che hai fatto in tutti questi anni è una frase nota, una domanda della quale tutti conosciamo la risposta: Sono andato a letto presto. Scritta dallo sceneggiatore Enrico Medioli e come lui stesso dichiara si tratta di un furto!
Questa e altre curiosità sulla genesi di un film importante e significativo come C'era una volta in America sono raccontate nel libro di Scaglione.
Il film come in molti sanno è ispirato a The Hoods (Mano armata) di Harry Grey (tale Goldberg) un ex gangster ritiratosi a vita privata che si raccontò in un romanzo autobiografico e che impareremo a conoscere in questo libro.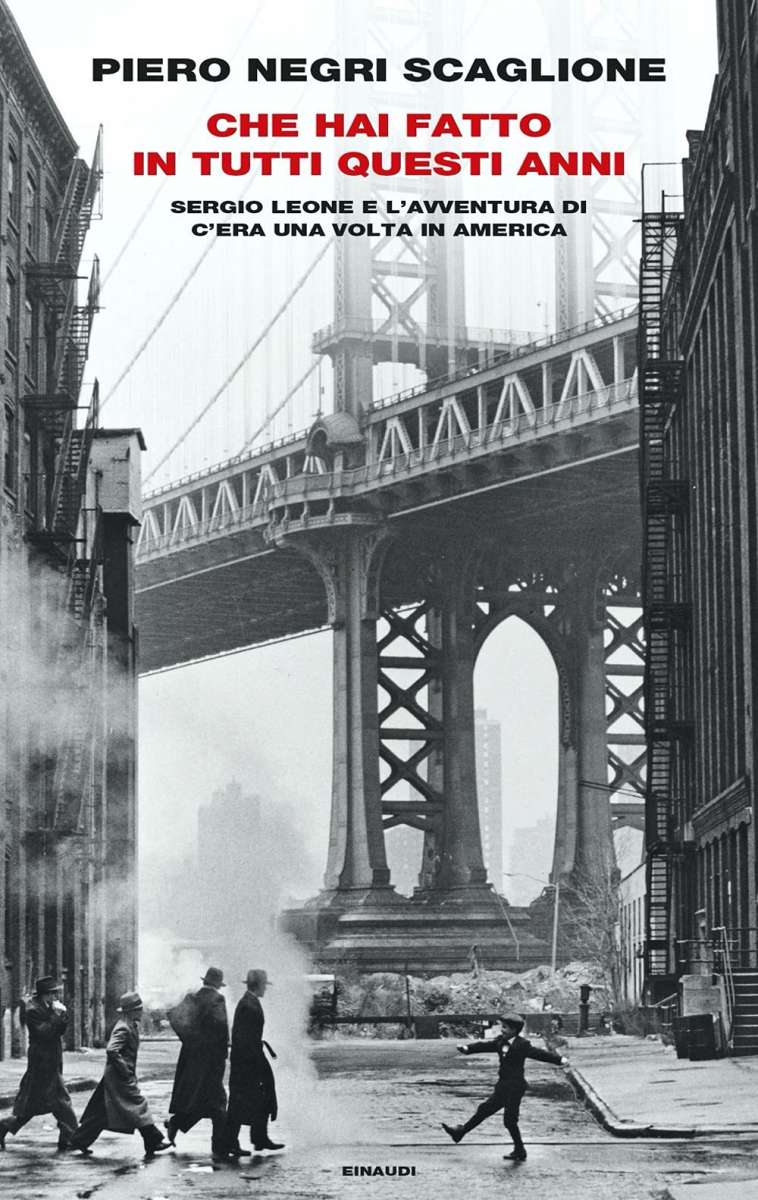 Al tempo Grey non immaginava che la sua storia avrebbe cambiato per sempre la vita di Sergio Leone.
Era il 1969 quando il regista della Trilogia del dollaro iniziò a pensare di voler trarre un film da quel romanzo, il film inizialmente intitolato C'era una volta l'America, è uscito nel 1984, in mezzo quindici anni di ricerche, tentativi di acquisto dei diritti, viaggi, collaborazioni strette e poi sciolte bruscamente.
Fra gli scrittori americani interpellati per sceneggiare il film Norman Mailer è uno di questi e proprio con lui la questione finirà addirittura in tribunale.
Come questo, molti sono gli aneddoti riportati nel libro, con Scaglione ripercorriamo il film attraverso gli occhi di tutti coloro che hanno partecipato alla sua genesi ma soprattutto l'Odissea che ne ha preceduto la produzione.
Si dice sempre che dietro un film c'è una storia a parte, la storia di come è stato pensato, dalla prima idea all'ultima stesura della sceneggiatura, fino alla messa in scena. La storia delle persone che lo hanno realizzato, la vita che agisce intorno al film e nelle pagine di Che hai fatto in tutti questi anni possiamo vedere tutto questo.
Che hai fatto in tutti questi anni assomiglia per certi versi a un romanzo on the road, denso di eventi, aneddoti, memorie e riferimenti al film tanto che il lettore è portato a vedere questo testo come l'epica di un racconto mitologico in cui Achille è il personaggio di Noodles che prende forma, che vediamo nascere crescere e sparire nel nulla. Questo processo come un loop temporale si ripete nel film in effetti.
Il tempo, infatti, è il vero protagonista non solo di C'era una volta in America ma anche di Che hai fatto in tutti questi anni e la memoria è la sua compagna.
Il risultato è condito con una forte nostalgia che non possiamo fare a meno di provare nel corso della lettura.
Se amate il cinema, se amate questo film e se vi incuriosiscono le storie che si celano dietro la pellicola immergetevi nella storia raccontata da Piero Negri Scaglione di come Noodles ha preso vita e di quanto ci ha messo prima di avere il volto dell'immenso Robert De Niro.