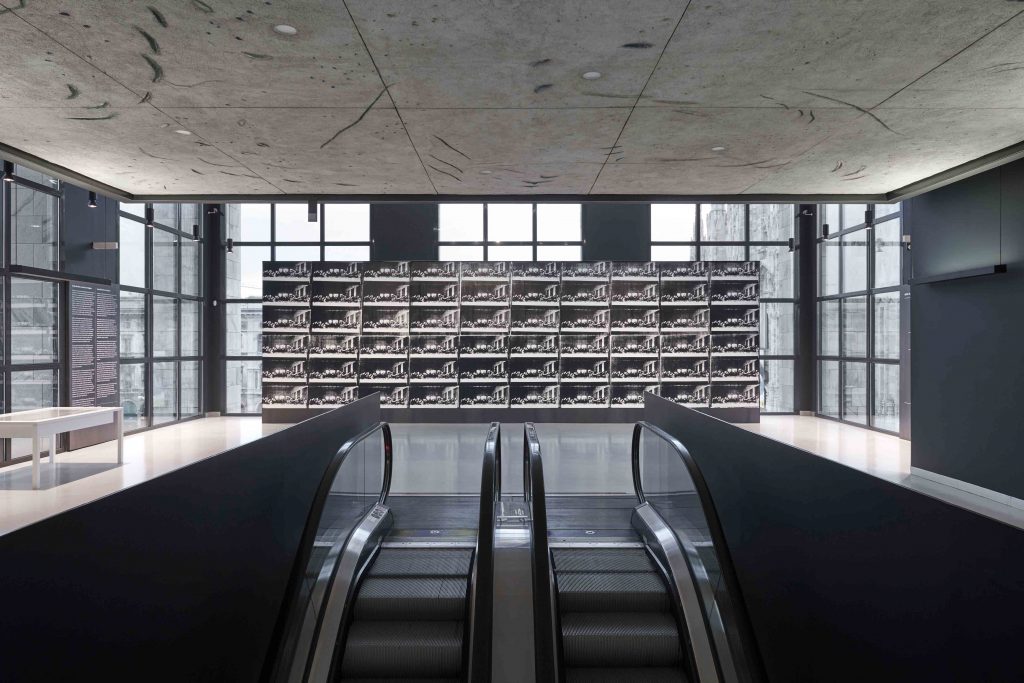 L'ultima Cena si trova al Museo del Novecento. No, non sono impazzita, se non mi credete andate a vedere con i vostri occhi.
Fino al 18 maggio potete ammirare il caplavoro monumentale "Sixty Last Suppers" di Andy Warhol dedicato all'Ultima Cena di Leonardo, allestito nella spettacolare Sala Fontana, affacciata sul suggestivo panorama di Piazza del Duomo e di Palazzo Reale, sotto il monumentale neon di Lucio Fontana. Un capolavoro di straordinaria bellezza che trent'anni fa, nel 1987, faceva il suo debutto a Milano.
L'opera "Sixty Last Suppers", che si avvicina alla scala dell'originale di Leonardo, è uno dei più grandi e complessi lavori del progetto commissionato a Warhol dal noto gallerista Alexandre Iolas nel 1984. Iolas gli chiese di fare una sua riflessione personale sul celebre Cenacolo di Leonardo, che il grande Maestro rinascimentale aveva dipinto tra il 1495 e il 1498, nel refettorio della Chiesa di Santa Maria delle Grazie a Milano. Alla fine, il padre della pop art realizzò oltre centro opere tra dipinti e serigrafie.
"Sixty Last Suppers" si concentra sull'immagine di uno spazio architettonicamente incorniciato, la sala della cena, piuttosto che su una singola figura iconica. Una sobria immagine in bianco e nero de L'Ultima Cena è ripetuta 60 volte in modo che, a distanza, la tela serigrafata appaia come un edificio modernista con la sua griglia di unità di identiche dimensioni. Quasi cinque secoli dopo il capolavoro vinciano, Iolas organizza al Palazzo delle Stelline, nel 1987, la mostra inaugurale della serie con una selezione di opere.

L'improvvisa e inaspettata morte dell'artista appena un mese dopo l'apertura a Milano tra- sformò la mostra, la cui inaugurazione alla presenza dell'artista aveva già attratto un'enorme attenzione, in un evento mediatico di massa. Infatti, misteriosamente premonitore, "The Last Supper" fu l'ultimo progetto di Warhol, e in quanto tale funge da potente testimonianza dei principi che ispirarono la sua intera carriera artistica.
Warhol si avvicinò a L'Ultima Cena attraverso delle rielaborazioni dell'originale, piuttosto che tramite l'originale stesso, come spesso accadeva per i suoi lavori. Tra queste c'erano souvenirs e immagini prodotte per uso commerciale, ma anche una riproduzione in bianco e nero di un'incisione del XIX secolo molto nota e uno schizzo riprodotto in una pubblicazione del 1913, la Cyclopedia of Painters and Painting. Da questo materiale l'artista generò quasi 100 variazioni sul tema – dipinti serigrafati, stampe, lavori su carta – che testimoniano un profondo coinvolgimento con l'intenso e spirituale capolavoro leonardesco. Alcune opere si appropriano interamente del progetto pittorico di Leonardo, mentre altre ne esplorano i dettagli riproducendo figure singole o gruppi con variazioni nell'orientamento, nella scala e nel colore. L'apparente irriverenza per la commistione tra sacro e profano, tra arte e design commerciale trasforma un lavoro profondamente religioso in un cliché, alterandone l'intenso messaggio attraverso la ripetizione.
La mostra Sixty Last Suppers è stata resa possibile grazie al supporto di Gagosian, e alla collaborazione di Jessica Beck, Curatore Associato del Museo Warhol di Pittsburgh. Fortemente sostenuta dal Soprintendente del Castello Sforzesco e Direttore del Museo del Novecento Claudio Salsi, anticipa il progetto "Milano e l'eredità di Leonardo 1519- 2019", che celebrerà nel 2019 il V centenario dalla morte di Leonardo Da Vinci.
Museo del Novecento
Piazza del Duomo, Palazzo dell'Arengario, Via Guglielmo Marconi, 1, 20122 Milano
orario: Lunedì 14.30-19.30 Martedì 9.30-19.30 Mercoledì 9.30-19.30 Giovedì 9.30-22.30 Venerdì 9.30-19.30 Sabato 9.30-22.30 Domenica 9.30-19.30 Ultimo ingresso consentito un'ora prima della chiusura del museo. Ingresso gratuito a partire da due ore prima della chiusura del museo e ogni martedì dalle ore 14.00
(possono variare, verificare sempre via telefono)
biglietti: Intero 5€ Ridotto 3€