Se ancora non vi siete allineati con la prima stagione vi consiglio di farlo nel minor tempo possibile, The Boys è una serie uscita su Amazon Prime Video che unisce in perfetta sinergia tutto quello che ci si aspetta da un prodotto ben riuscito e straordinariamente dissacrante.
L'idea nasce da un fumetto di culto scritto dallo sceneggiatore nordirlandese Garth Ennis che ha un gusto preciso per l'eccesso e per la scorrettezza. Inoltre negli ultimi anni siamo stati subissati da film incentrati sui Supereroi, belli, buoni, incorruttibili, straordinariamente noiosi e retorici, il culmine delle uscite è stato raggiunto proprio quest'anno con Avengers: Endgame che ha registrato il più grande incasso della storia al botteghino.
Belli i film dei super eroi, niente da dire, però serviva qualcosa di un pochettino diverso, un po' più sgraziato, meno perfetto, più reale, più cattivo. Ed ecco che approda sulla piattaforma Prime Video The Boys, la serie che indaga sul lato oscuro dei superpoteri usando dei toni non proprio politically correct.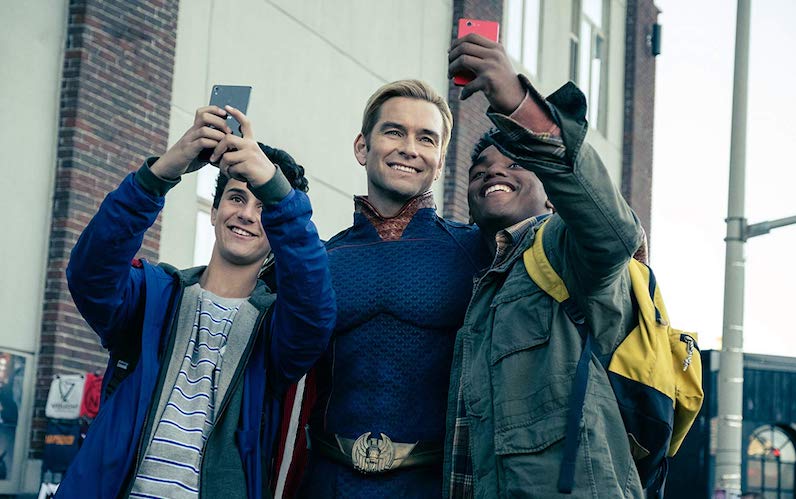 Siamo cresciuti tutti con il mito dei Supereroi ma, riflettiamoci un attimo: sono spaventosi, fanno cose incredibilmente straordinarie ma sono devastanti, dove passano loro c'è sempre una città distrutta, un palazzo in fiamme, un combattimento con calci volanti e pugni super sonici capaci di devastare tutto quello che li circonda, però sono Supereroi e quindi non ci soffermiamo sui danni economici e sociali che le loro azioni provocano ma gli diamo l'attenuante perché "stanno salvando il mondo", da chi poi? Un altro cattivo con superpoteri come loro.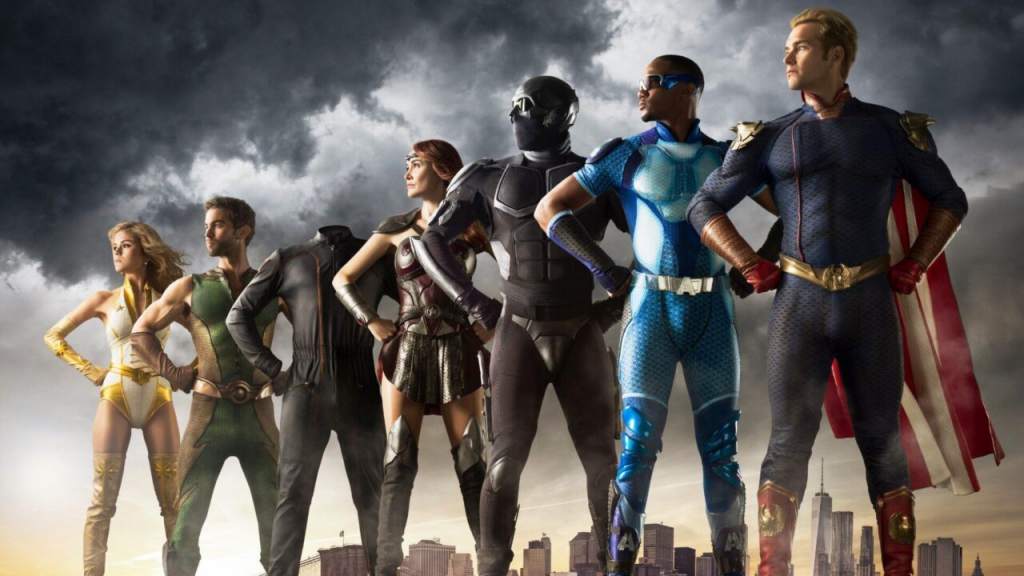 In questa serie invece si indaga proprio su questo aspetto e, cosa fondamentale, sull'idea che i "super" non siamo solo personaggi da grande schermo, ma persone che vivono nella nostra società, quindi cosa succederebbe se fosse tutto vero?
Succederebbe un disastro! Non solo perché dovete immaginare che quella città distrutta sia la vostra, quelle macchine in fiamme siano proprio le vostre, quelle povere vittime che per pura casualità (o sfiga) sono passate nel loro raggio d'azione erano vostri amici e parenti, inoltre dovete immaginare che se i Super esistessero davvero sarebbero i nuovi Influencer per eccellenza e alcuni potrebbero perdere la testa per la popolarità mondiale. Ma soprattutto qual è la migliore qualità di un ottimo Influencer?
Ci risponde Chiara Ferragni: fatturare!
Impossibile immaginare che dietro tanta popolarità, potenza e prestigio non ci sia un giro incredibile di soldi gestiti ovviamente da persone all'apice della società, insomma quelli che manovrano il sistema, che tradotto diventa anche un gioco di potere=politica.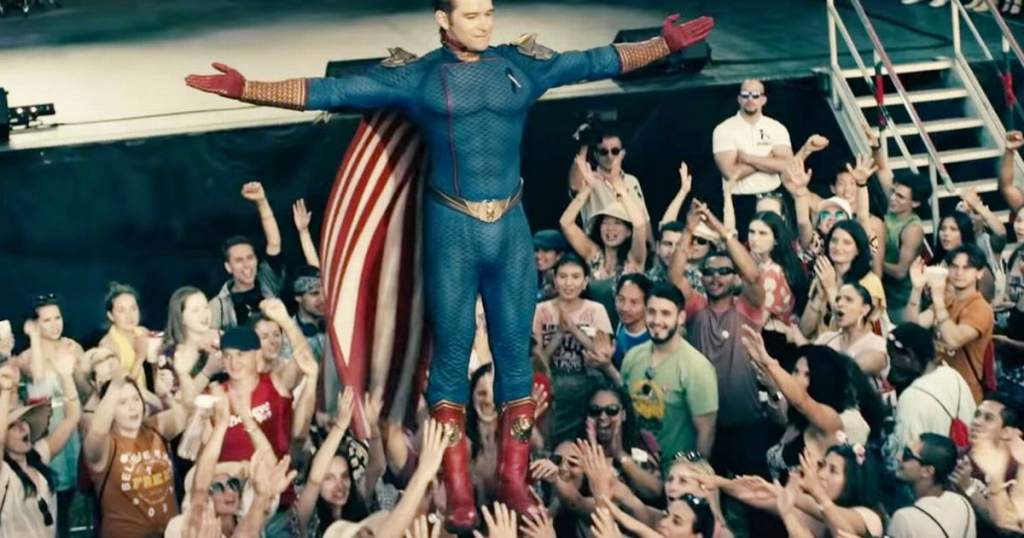 È proprio da questa premessa che inizia The Boys, la gente ama i Super ma ne ha anche paura per quello possono fare, inoltre da dietro le quinte c'è la Vought-American, la compagnia che gestisce "contrattualmente" tutti i super, a tirare le fila di tutto coprendone le malefatte e guidando l'opinione pubblica. Va naturalmente detto che la trasposizione di Eric Kripke di The Boys non è solo un attacco ai personaggi Marvel, ma anche a quelli della DC Comics. Patriota ha i colori e la mentalità del vero Capitan America, quello appunto tanto patriottico da essere senza scrupoli, ma ha anche tutti i poteri di un altro simbolo americano, Superman, gli mamncano solo un po' di valori. Queen Maeve è chiaramente Wonder Woman, Al-Train Flash, Abisso è Aquaman, e così via, insomma non manca nessuno all'appello e tutti hanno un lato decisamente oscuro, odioso, fastidioso.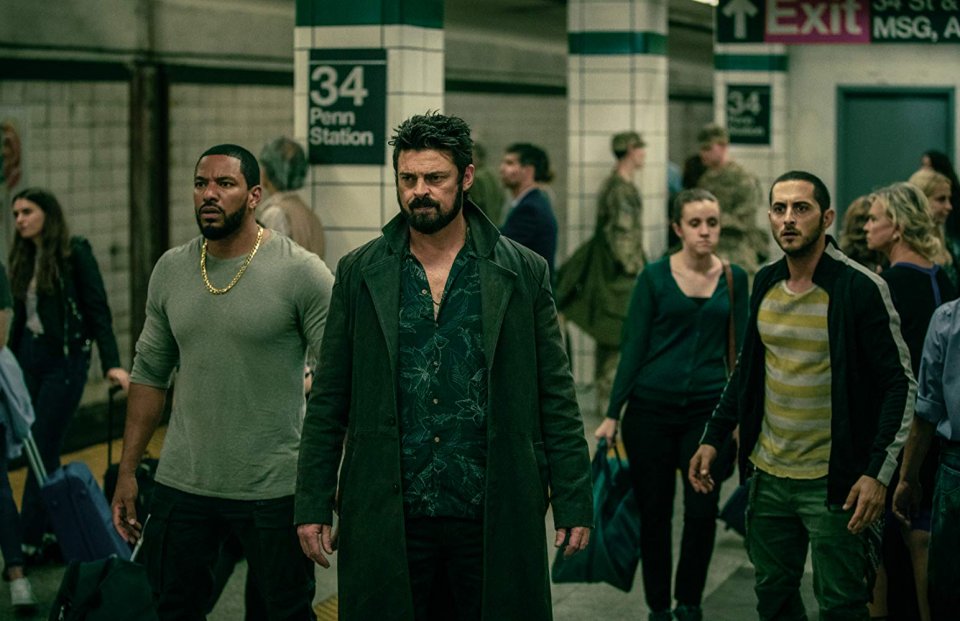 Ovviamente tutto questo marciume nascosto da sfavillanti costumi non può andare bene a tutti, qui entra in gioco il vero protagonista della serie Billy Butcher, un uomo senza poteri al quale non sta più bene nulla della Vought e dei Super. Insieme a lui troviamo altri personaggi dalla forte caratterizzazione, inoltre i dialoghi sono sublimi e l'ironia, della quale ogni puntata ne è pregna, è decisamente non scontata, tutto diventa perfetto, puntata dopo puntata, la parte difficile è riuscire a non guardare tutta la serie in un fol fiato. Peccato che siano solo 8 puntate.
https://www.instagram.com/p/B4h3XjYgQG5/
La grande attesa è per la seconda serie che sembra essere quasi in dirittura d'arrivo, lo dimostra il post di Karl Urban, alias Billy Butcher, che ha pubblicato su Instagram una foto che conferma la fine delle riprese della seconda stagione e che i nuovi episodi dovrebbero debuttare entro la metà del prossimo anno.
"Pronti per andare in stampa! Fine delle riprese per Billy Butcher nella seconda stagione di The Boys. Grazie infinite al nostro fantastico cast di personaggi, vi amo tutti."
Noi siamo pronti!