Dopo la premiere di Eternals è arrivata la prima ondata di reazioni senza spoiler su l'attesissimo film della Marvel.
Diretto dalla vincitrice dell'Academy Award Chloé Zhao, i Marvel Studios si stanno preparando per presentare tra un paio di settimane il film Eternals, che ha come protagonisti supereroi immortali inviati sulla Terra per proteggere gli umani dai Devianti che sbarcheranno nelle sale dei cinema italiani il 3 novembre.
I supereroi costretti a rimettersi la divisa e unirsi contro la nuova minaccia sono stati creati dai Celestiali e hanno vissuto per migliaia di anni al fianco degli esseri umani, mimetizzandosi senza immischiarsi tra i loro problemi, almeno che non siano legati al mandato originale.
l team principale di Eternals del MCU è composto da 10 membri che, prima di separarsi, operavano come una squadra: Thena, interpretata da Angelina Jolie, presente alla premiere con i figli, Ikaris (Richard Madden), Makkari (Lauren Ridloff), Phastos (Brian Tyree Henry), Ajak (Salma Hayek), Sprite (Lia McHugh), Gilgamesh (Don Lee), Kingo (Kumail Nanjiani), Sersi (Gemma Chan) e Druig (Barry Keoghan).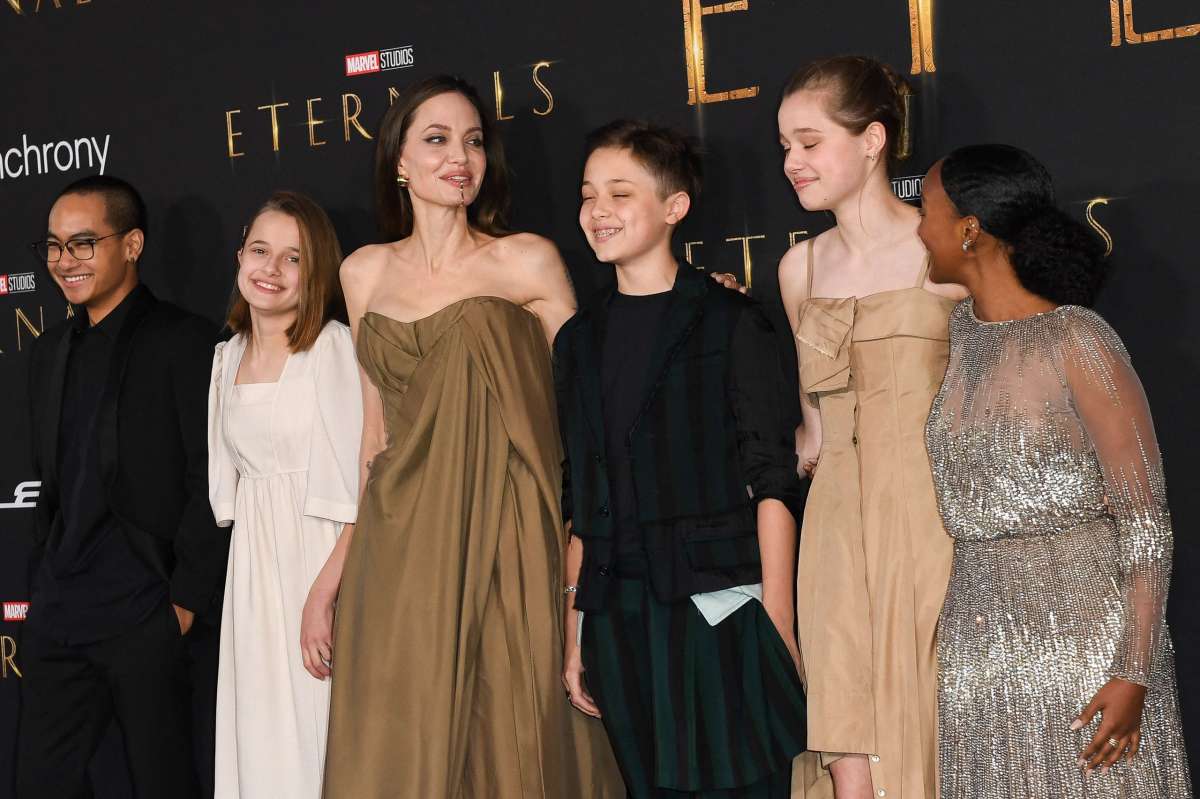 La catastrofe del MCU che costringe gli Eternals a riunirsi e combattere per un obiettivo comune sembra essere nata dallo scatto inverso di Smart Hulk (Mark Ruffalo) in Avengers: Endgame. Dato che la nuova squadra di supereroi si unisce al franchise, l'attesa si fa sempre più forte e le reazioni degli utenti online non hanno tardato ad arrivare.
Marvel's #Eternals is spectacularly weird & rich w/ a new MCU mythology that makes it feel separate from everything else. It's honestly refreshing. There's a bittersweetness to the film that you feel in its sunset shots – a definite Chloé Zhao touch. It is soulful & thoughtful pic.twitter.com/pIAFAyhJ4D

— Erik Davis (@ErikDavis) October 19, 2021
I saw a movie tonight. #Eternals is cool as hell. Drags a bit in act 2 but I went in knowing nothing about this movie and walked out a fan. pic.twitter.com/HQGcEQ3h12

— Chris E. Haynorror Movies Rule (@ChrisHayner) October 19, 2021
#Eternals is DENSE & I felt the weight of the exposition often. Movie's at its best when the focus is on the Eternals recreating their family – the humor of it & the passion when they fight for each other and the things they love. Also, Angelina Jolie in the MCU is EVERYTHING. pic.twitter.com/rMJz0U2It2

— Perrinormal Activity (@PNemiroff) October 19, 2021
#Eternals is epic in every sense of the word. It's a story that is more massive but simultaneously more down-to-earth than the MCU has ever been. The passion everyone involved had for this movie is present in every scene and it needs to be seen on the biggest screen you can find pic.twitter.com/CyyqPt9dfn

— Jack McBryan (@McBDirect) October 19, 2021
#Eternals , wow! A lot to unpack. If Marvel movies are a Venn diagram — variations within that overlap — this movie is off the charts. Hands down the most different of any of their films.

— Aaron Couch (@AaronCouch) October 19, 2021
Fresh off her Oscar win, Chloé Zhao doesn't miss a step with Marvel's #Eternals.

Eternals is one of the most visually stunning comic films we've seen. Zhao has a great eye for detail and we see that with her set pieces and character designs which pay homage to the comics (1/4) pic.twitter.com/v1kTln0udL

— Geek Vibes Nation (@GeekVibesNation) October 19, 2021
Chloé Zhao's #Eternals is absolutely fantastic, the cookie cutter Marvel template is thrown out the window and you're given an enthralling experience, a must watch this year. #Sersi #Ikaris #Kingo #Thena #Phastos #Druig@TheMoviePodcast review coming soon. pic.twitter.com/aZaMNfg0Vu

— Anthony Gagliardi (@AJJetset) October 19, 2021
#Eternals is amazing! Chloé Zhao & company turn in an evocative, emotional, extraordinarily epic superhero film. The ensemble have great chemistry & all get big Movie Moments to showcase their prowess. The naturalism of Ben Davis' cinematography spotlights characters' humanity. pic.twitter.com/MjZ2VheJ56

— Courtney Howard (@Lulamaybelle) October 19, 2021
Haven't felt this giddy after a movie since The Avengers. Goosebumps. Incredible action, both planetary & interstellar and looks GORGEOUS. Most importantly, it feels like a live action anime! Can't wait to talk about Makkari & Kingo! 😥Those end credits 🤯! #Eternals pic.twitter.com/htspR64EZM

— Emotionally Invested ? (@HowieBlingAEW) October 19, 2021
#Eternals is a total blast. A lot of material to cover but it is handled well. Can't wait for people to see it. Of all the end credit scenes I've watched during a premiere, I've never heard the audience lose their minds as much as they did for this one. #eternalspremiere pic.twitter.com/LXxZXY8P1f

— Ashley Menzel (@AshleyGMenzel) October 19, 2021
Holy crap – Eternals is a freaking MASTERPIECE!!! Packed with adrenaline right from the start, but also filled with lots of heart & humor! So many MCU firsts!! Your mind will be BLOWN! Nods to comics but a totally unique story. Those end credits are GAME CHANGERS!! #Eternals pic.twitter.com/jKiMJukn4S

— Tessa Smith – Mama's Geeky (@MamasGeeky) October 19, 2021
Leggendo le prime reazioni a caldo, sembrano descrivere Eternals come il film più epico e unico del MCU.
I più attenti avranno notato che questa è la prima volta che il franchise fa debuttare un gruppo di personaggi ancora mai apparsi in un progetto precedente, a partire da I Guardiani della Galassia di James Gunn's e, anche rispetto a quest'ultimo, gli Eternals sono molto più numerosi e presentarli al pubblico è sicuramente più complesso. Nonostante questo, Chloé Zhao sembra aver trovato la chiave giusta per farlo, considerando che il film impiega un po' di tempo nel racconto iniziale -che è in qualche modo si rivela necessario visto che Eternals apre una porta completamente nuova dell'MCU- come con altri film e programmi TV nell'universo Marvel, anche in questo i personaggi sembrano essere i protagonisti del film, questo è ottimo considerando che ci si aspetta che svolgano un ruolo fondamentale nel futuro del franchise.
A differenza delle proiezioni precedenti, tuttavia, la première globale del film Eternals non ha previsto le scene post-credit, ossia le scene del film che vengono mandate subito dopo i titoli di coda. Attualmente non ci sono indizi su cosa potrebbero essere, ma sulla base di alcune di queste prime reazioni forse la scelta della Marvel è stata presa con cognizione di causa, perché probabilmente queste scene contengono snodi narrativi chiave per il futuro dell'MCU, dopotutto non avrebbe senso diversamente ometterle.
Un altro grande vantaggio da questi post che ci arrivano dai social è  scoprire che la Zhao non ha seguito alla lettera il tipico formato di narrazione in tre atti del MCU per il film Eternals, per questo, sembra essere fresco e diverso da tutto ciò che conosciamo prima.
Siamo curiosissimi di vederlo!