Selena Gomez, Steve Martin e Martin Short hanno deciso di prolungare il loro soggiorno all'Arconia, nonostante tutti gli omicidi nel palazzo, per Only Murders in the Building 2. Speriamo almeno che l'affitto sia sceso, nel caso mi piacerebbe sfidare la sorte e prendere un appartamentino proprio lì.
La popolare commedia uscita su Disney+ è stata una storia di successo fin dall'inizio, il mistero stravagante vede come protagonisti Gomez, Martin e Short nei panni di un trio di veri conoscitori del crimine che lanciano un podcast per indagare su un omicidio nel loro palazzo dell'Upper West Side, solo per essere coinvolti dai loro inaspettati legami con il crimine. Oltre a battere The Undoing della HBO per la sua serie di magnifici cappotti, lo show si è dimostrato una fonte costante di divertimento spensierato nel genere crime che spesso risulta fin troppo noioso e ripetitivo, insomma, si sono saputi distinguere. Quindi non è una sorpresa che la serie sia stata rinnovata per una seconda stagione.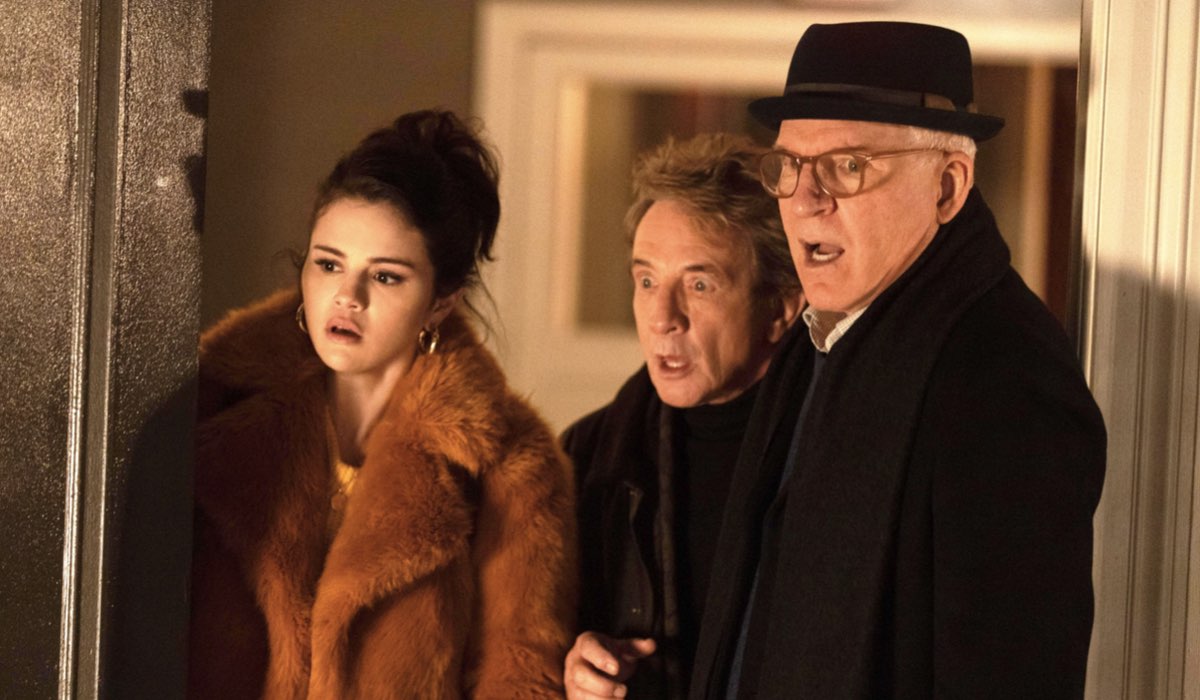 "C'è stato qualcosa in questo progetto che ha dato l'idea di essere predestinato fin dall'inizio; dal primo pranzo di co-creatore Dan Fogelman con Steve in cui gli è capitato di menzionare di avere un'idea per una serie, al co-creatore e produttore esecutivo John Hoffman che è saltato a bordo per co-crearla, al fatto che Steve ha accettato di recitare ma solo se Marty si fosse unito a lui, all'aggiunta ispirata di Selena", ha detto Karey Burke, presidente della 20th Television, in un comunicato stampa. "La commedia che questa squadra ha consegnato è stata l'ossessione di ogni dirigente di questo studio e i nostri amici di Hulu (la piattaforma di produzione) l'hanno trattata come il gioiello della corona che è". Non di meno anche Disney ha fatto un successone proponendola tra i suoi contenuti di rilievo.
Ecco dunque tutto quello che sappiamo sul caso che il nostro allegro gruppo potrebbe risolvere prossimamente.
Chi sarà nel cast di Only Murders in the Building 2?
Martin, Short e Gomez dovrebbero tutti riprendere i loro ruoli. Dopo l'annuncio della seconda stagione la Gomez è apparsa su Instagram per condividere il suo entusiasmo per la prossima stagione.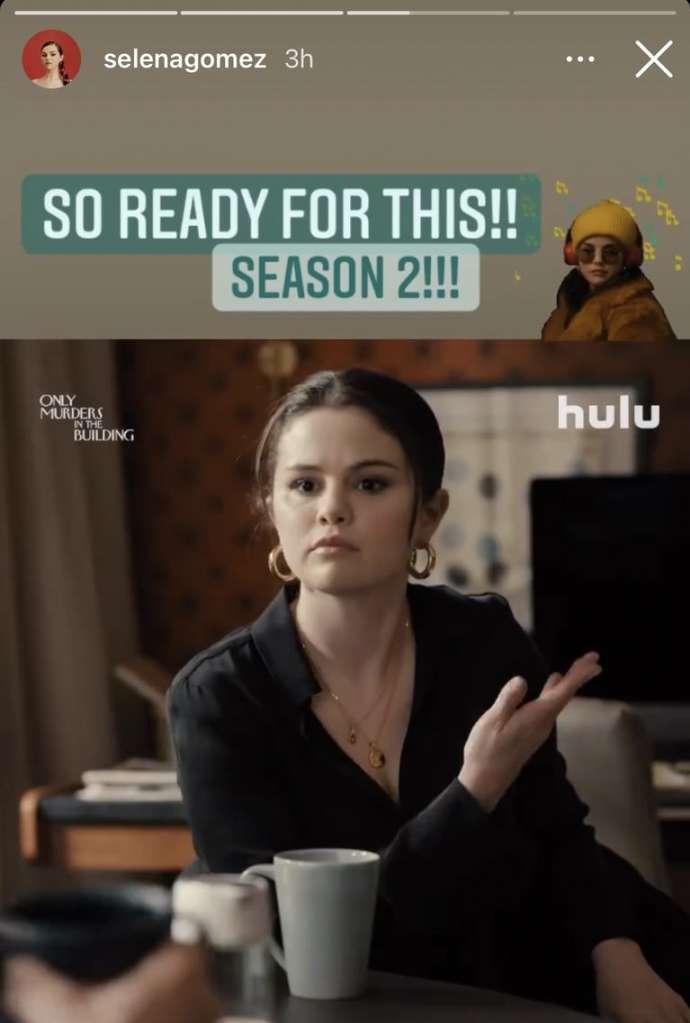 Né Martin né Short hanno Instagram – come potrebbe dire il personaggio della Gomez, Mabel, che fa parte della generazione Z, sono "vecchi" – ma possiamo supporre che anche loro siano piuttosto felici della notizia. Per quanti riguarda il resto del cast è ancora tutto da vedere, ci saranno nuovi inquilini? O ritroveremo i vecchi volti? Qualcuno quasi sicuramente dovrebbe tornare…
Quando uscirà la seconda stagione?
Non abbiamo ancora una data di uscita ufficiale, ma il co-creatore Hoffman ha già accennato ad una rapida svolta. In un'intervista ha rivelato che la stagione 2 inizierà le riprese entro la fine del 2021, il che significa che Only Murders in the Building 2 potrebbe arrivare già a metà del 2022.
Di cosa parlerà il prossimo capitolo?
Ora che il finale della stagione 1 è andato in onda, siamo rimasti con un brusco cliffhanger e molte ipotesi su dove la stagione 2 potrebbe portarci. Sappiamo che Jan, la ragazza di Charles, ha ucciso Tim Kono in un impeto di gelosia prima di avvelenare Charles stesso. Fortunatamente lui si dimena nell'edificio in modo da attirare l'attenzione di Mabel e Oliver, così il trio riesce ad assistere all'arresto di Jan. Ma non hanno molto tempo per festeggiare prima che scatti l'allarme antincendio nell'Arconia, Charles e Oliver corrono giù per le scale per scoprire Mabel nel suo appartamento, dove viene trovata piena di sangue inginocchiata di fronte a un cadavere… quello della scorbutica Bunny.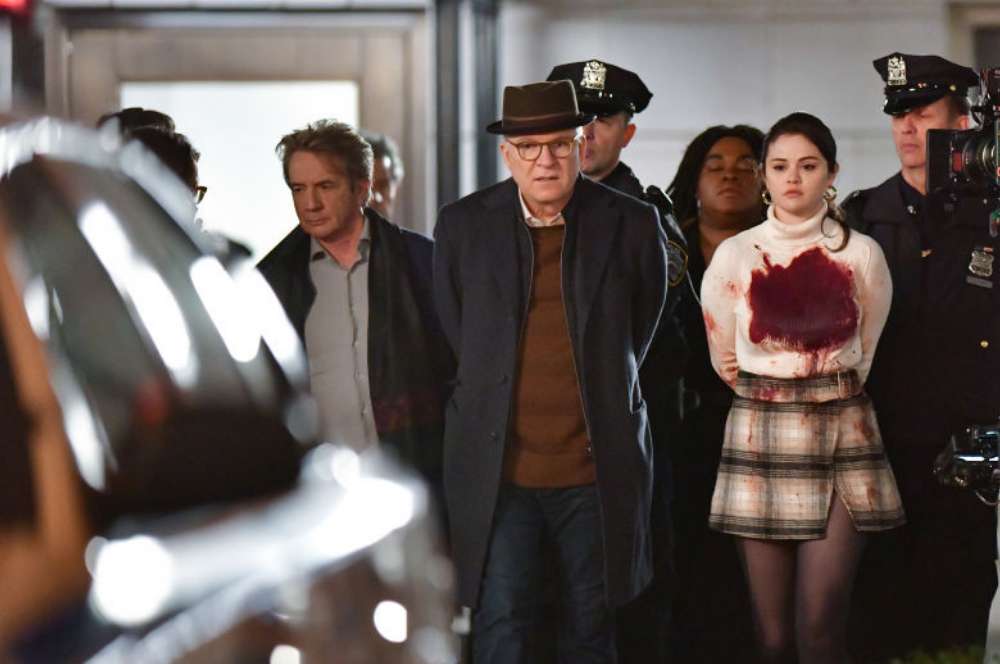 Lei dice ai suoi amici: "Non è come pensate", ma potrebbe mentire? Certamente non sarebbe la prima volta che Mabel ha distorto la verità. Eppure, la favorita dai fan che diventa un'assassina a sangue freddo sembra una forzatura. È più probabile che altre forze nefaste siano in gioco, ma non potremo saperne di più finché lo show non inizierà le riprese della seconda stagione. Fortunatamente, con la produzione che si svolge a New York, è molto più probabile che avremo qualche scatto rubato dal set. Nel frattempo, tenete gli occhi aperti in cerca di indizi.
Se volete sapere tutto su Only Murders in the Building 2 salvate l'articolo e attivate le notifiche perché lo aggiorneremo appena saranno svelati i dettagli.