Un nuovo video di Vought News Network pubblicato per The Boys 3 offre ai fan il loro primo sguardo al Super conosciuto come Groundhawk. Sviluppato dal creatore di Supernatural Eric Kripke per Amazon, la serie televisiva The Boys, adattamento dell'omonima serie a fumetti di Garth Ennis e Darick Robertson, ha raccolto una legione di fan e molti consensi dalla critica fin dal suo debutto nel 2019. Adottando un approccio senza esclusione di colpi alla sua satira pungente sugli stereotipi dei supereroi, le prime due stagioni di The Boys hanno costantemente dimostrato che nessuno, o niente, è sacro.
Ambientata in un universo fittizio in cui i più grandi supereroi del mondo sono corrotti, burattini aziendali accecati dalla loro stessa arroganza e guidati dal loro stesso egoismo, la serie presenta personaggi che sono volutamente parodie dirette di molti eroi dei fumetti amati come The Flash, Superman, Aquaman e Wonder Woman. La terza stagione di The Boys vedrà anche Jensen Ackles di Supernatural unirsi al cast come Soldier Boy, un personaggio basato su Capitan America della Marvel. Mentre le riprese della nuova stagione si sono ufficialmente concluse a settembre di quest'anno, non si sa ancora quando il pubblico potrà aspettarsi che arrivi su Amazon Prime.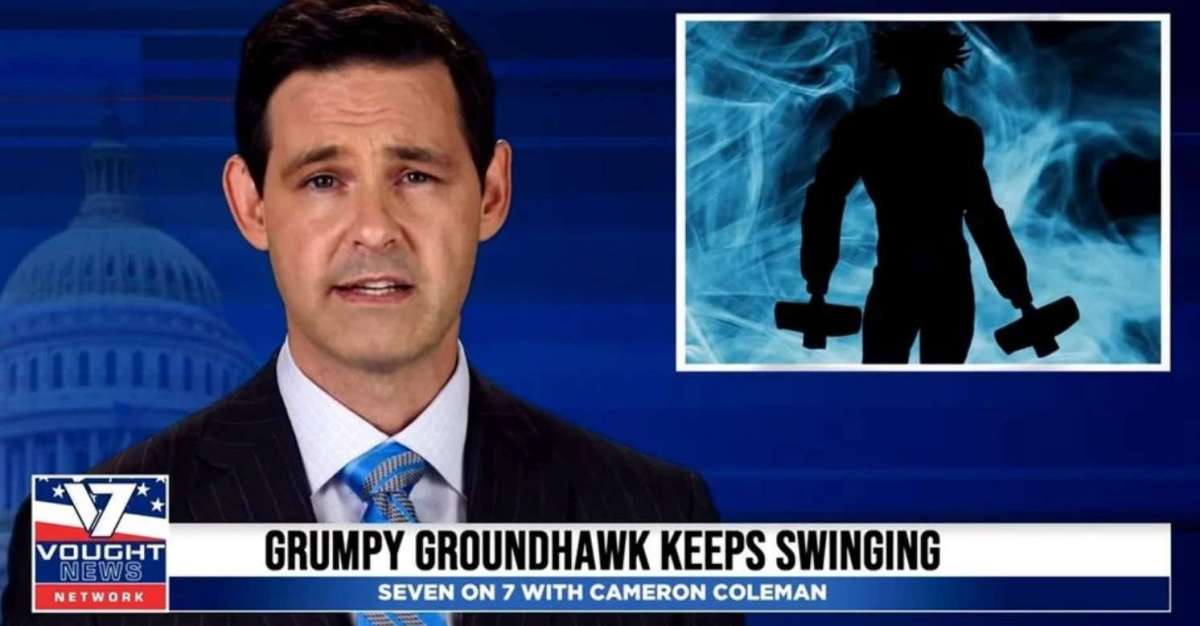 In vista della terza stagione, tuttavia, all'inizio di quest'anno i creatori dello show hanno istituito un canale YouTube "ufficiale" di Vought International. Il canale presenta video musicali, teaser speciali e altri contenuti relativi allo show. Il video più recente ad essere rilasciato tramite il canale è un altro episodio di Vought News Network: Seven on 7 con Cameron Coleman, una presa di posizione satirica sui media come Fox News. Nel nuovo video, un articolo di giornale menziona il Super Groundhawk e presenta un'immagine con la silhouette del suo personaggio dalla mano a martello. Insinuando che il personaggio alcolizzato si è trovato in riabilitazione per "una quinta volta da record", il conduttore gli augura tutto il meglio dicendo: "Facciamo il tifo per te, Groundhawk. Speriamo che la quinta volta sia quella buona".
Parodia del personaggio preferito dai fan degli X-Men, Wolverine, nei fumetti originali, Groundhawk è il leader dei G-Men (una parodia degli X-Men). Brandisce martelli di metallo, piuttosto che gli artigli di adamantio di Wolverine, ciò che non è chiaro, tuttavia, è se Groundhawk sia effettivamente destinato a fare un'apparizione nella prossima stagione 3 di The Boys. Mentre i report precedenti hanno confermato l'aggiunta di nuovi Super come il Soldier Boy di Ackles, così come i gemelli TNT, questo è il primo indizio che Groundhawk potrebbe entrare nella serie. Con un progetto spin-off già in sviluppo incentrato sui G-Men, quest'ultimo tease potrebbe anche essere impostato per quello show, piuttosto che accennare all'apparizione del personaggio in The Boys.
Indipendentemente dallo show in cui Groundhawk farà la sua prima apparizione, sembra che il team dietro The Boys cercherà di lanciare qualcuno che sia "di bassa statura". Questo è un riferimento diretto all'altezza di Wolverine nei fumetti, in contrasto con l'interpretazione di Hugh Jackman, che è alto 1 metro e 90. Con The Boys che ha già fornito ai fan dei fumetti un vero e proprio tesoro di Easter eggs e meta-referenze ad altre proprietà, quest'ultimo tease è sicuro di mantenere l'eccitazione fino all'annuncio della data di uscita ufficiale della terza stagione. Non c'è dubbio che quando l'annuncio tanto atteso arriverà, sarà fatto nella maniera ironica che contraddistingue The Boys.