Did you read the article you're about to spread? https://t.co/bUsvprod5C

— jack (@jack) June 10, 2020
Twitter sperimenta una nuova funzione attraverso alcuni test per scoraggiare la condivisione di articoli senza averli letti e per incentivare l'informazione.
Uno dei più grandi problemi legati alla disinformazione e alle fake news nel mondo è la condivisione di notizie senza averle lette ne parzialmente ne per intero, anzi molto spesso senza neanche aver cliccato sul link, la condivisione deriva solo dal titolo che, molte volte, per fare un po' di click baiting, è fortemente fuorviante. A questo proposito e per risolvere uno dei più grandi problemi di questa epoca, Twitter vuole sperimentare una nuova funzione attraverso alcuni test che saranno attivi negli Stati Uniti sul sistema Android, per ora, un metodo per scoraggiare la condivisione a casaccio senza informazione.
«Stiamo testando una nuova funzione su Android: quando ritwittate un articolo che non avete aperto su Twitter, potremmo chiedervi se prima volete aprirlo», si legge in un tweet della società. Al momento non si hanno dati su quando questa nuova funzione verrà attivata, secondo Twitter servirà ad «aiutare a promuovere una discussione informata». Il dibattito è fondamentale in una società e serve per scambiarsi idee e informazioni, notizie e pensieri, ma cosa succede se tutto questo parte dalla non conoscenza assoluta di quello di cui si sta parlando?
Siamo ormai abituati a giudicare un contenuto condividendolo con commenti infuocati o polemici soltanto avendo letto il titolo, o lo snippet (che per chi si intende di SEO è fatto apposta per catturare l'attenzione) o anche dall'immagine accattivante che ci rimanda un pensiero del tutto personale e non per forza correlato al testo. Questo meccanismo mette in moto un circolo vizioso dove chi legge il commento infuocato spesso si sente in dovere personale di rispondere a tono innescando una discussione, a volte dai toni forti, tutta basata sulla "fiducia" perché nessuno ha letto davvero il contenuto del testo riportato, e magari leggerlo può aiutare a farsi un'idea più concreta di quello di cui si vuole parlare, soprattutto, aprendo il contenuto, si può anche valutare se siamo di fronte a fonti affidabili o testate di facciata che puntano solo alla condivisione di massa, dando appositamente adito a questo tipo di attività prive di informazione.
Così Twitter si impegna, con le sue possibilità, a guidare i suoi utenti verso una condivisione più responsabile e a un dialogo più consapevole, con la speranza che la sperimentazione si allarghi anche ad altri paesi in breve tempo. Questa piccola pausa di riflessione, dettata da un messaggio di alert, potrebbe disincentivare il rilancio compulsivo di notizie creando un mare di disinformazione, lo abbiamo visto in piena pandemia quali possono essere i rischi di una sbagliata informazione, creando panico e confusione.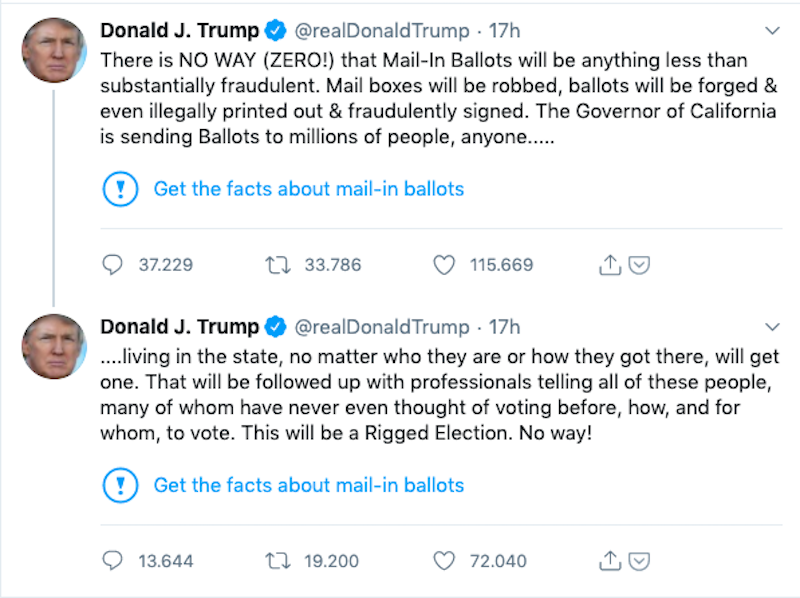 Questa non è la prima volta che il social guidato da Jack Dorsey si impegna a promuovere la buona informazione e disincentivare la diffusione di notizie false, infatti, alcuni giorni fa aveva segnalato un tweet del presidente degli Stati Uniti, Donald Trump, come fuorviante, un gesto importante perché per la prima volta il social ha presto un provvedimento di questo tipo dopo le numerose critiche che negli anni si sono susseguite rispetto al fatto che non avesse un protocollo per occuparsi delle notizie false o fuorvianti pubblicate da personaggi con milioni di follower. Ovviamente tra le ire di Trump che ha criticato duramente la decisione presa dal social firmando in seguito un ordine esecutivo per chiedere di ridurre le protezioni di cui godono i social network, in modo che vengano ritenuti responsabili legalmente dei contenuti pubblicati dagli utenti.
Questa sperimentazione ovviamente potrebbe non portare a nulla perché parliamo sempre del buon senso delle persone, ma bisogna dare un po' di fiducia al genere umano e magari, passo dopo passo, incentivo dopo incentivo, si educheranno generazioni future a essere meglio di quelle passate… ci vuole poco.